Sugar seems to be the biggest enemy right now, with good reason. The general population is consuming WAY TOO MUCH SUGAR, especially ADDED SUGARS!
Let's take a closer look.
---
Natural Sugars
Sugars are naturally found in fruits (fructose) and dairy foods (lactose). Lower levels are also found in semi-starchy vegetables such as sweet potatoes, potatoes, carrots and beetroot.
Sources of sugar from wholefoods (the ones mentioned above) are more than just sugar. They come packed with nutrients, vitamins, minerals, antioxidants and fibre. When eaten in the right amounts, these foods can reduce inflammation, improve immune function and enhance gut health.
---
 Added Sugars
Added sugars are well, basically sugars that have been added to foods and drinks at any stage during preparation or processing. These can be added on top of the natural sugars that are already present.
Sugars are added to enhance the taste and palatability of foods. If it tastes great, people are going to buy it. The food industry has relied on this to increase sales of processed foods – by adding loads of sugar to their products.
Head down to your nearest supermarket, and randomly pick one packaged processed food item. Look at the ingredients. I can almost (ALMOST!) guarantee that some form of sugar (refer to infographic below – Other sugar names) will be among the top 5 ingredients.
The problem with these foods (besides being high in sugar) is that they have no additional nutrient value. These foods are also SUPER TASTY and may drive you to eat MORE, which can then put you in a calorie surplus (weight gain).
Overconsumption of added sugars can also mess with your hormones and metabolism, leading to an increased risk of chronic diseases (diabetes, obesity, heart disease) and tooth decay.
---
Current Recommendation
The World Health Organisation (WHO) recommends that added sugars should not exceed 10% of your total energy intake, preferably below 5% or about 25g/day.
That's about 6 teaspoons of added sugar over a whole day.
---
What does that look like?

To put things into perspective, just look at the amount of added sugars in the foods below. You can see why it is easy to exceed 6 teaspoons a day!
 Kellogg's Coco Pops
30g = 3 tsp
Five:am Apple Crumble Granola
45g = 2 tsp
Coke
375ml can = 10 tsp
---
Common Sugar Claims
---
Other Sugar Names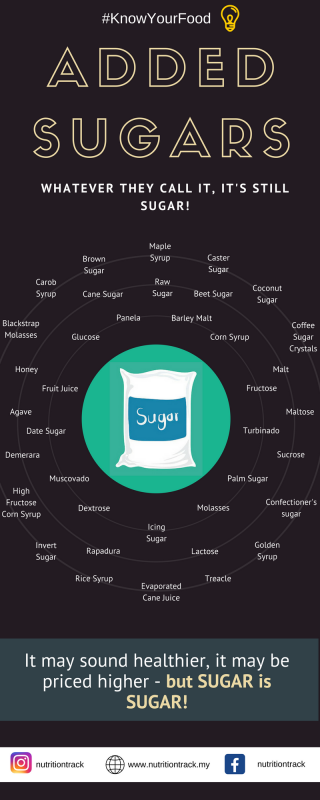 ---
How to Spot Hidden Sugars
Sugars are usually hidden in processed and packaged foods. The problem with nutrition information labels is that it will give you the TOTAL (natural + added) amount of sugar.
What you can do is to take a look at the ingredients list. These are listed in order of their quantity in foods, starting from the highest to the lowest. If sugar is lined up right in front, it probably has a lot of added sugar!
---
I hope this helps!
Don't be swayed by marketing gimmicks. Let's get smart about our sugars!
Let me know if you have any questions!